Best Double Hammock With Stand: A Great Way To Relax And Enjoy Your Time Off!
Hammocks are great. I even have one in our office, so you can understand how much I love them. And since there is no limit to the size of a hammock, why not go for a double one?!
We are supported by our audience. When you purchase through links on our site, we may earn an affiliate commission, at no extra cost for you. Learn more. Last update on 8th December 2023 / Images from Amazon Product Advertising API.
Hammocks are a fun, versatile, and budget-friendly way to relax outside. You can hang one from a porch, tree, or even between two chairs, and you can even sleep in one overnight.
But if you're in the market for a new hammock, you may be wondering what size you should get. And once you figure that out, there's even more to consider. How easy is it to set up? Will it hold your weight? Is it made of durable materials? Will it hold up to wear and tear? And will you love using it for years to come?

To answer these questions, we test hammocks in order to evaluate comfort, durability, ease of setup and use, weight capacity, and more.

After our tests, we picked our favorite double hammocks with stands. These models offer great support, come in a variety of materials, and are designed to be highly durable.
How Can a Double Hammock With Stand Provide Stress Relief and Relaxation?
A double hammock with stand offers the ideal solution for stress relief and relaxation. With its sturdy frame, it provides a convenient and comfortable spot to unwind. These relaxing hammock options allow you to sway gently, soothing your mind and body. Set it up in your backyard or take it on a camping trip to experience the ultimate relaxation.
Our Recommended Double Hammocks With a Stand:
1. Sunnydaze 2-Person Freestanding Double Hammock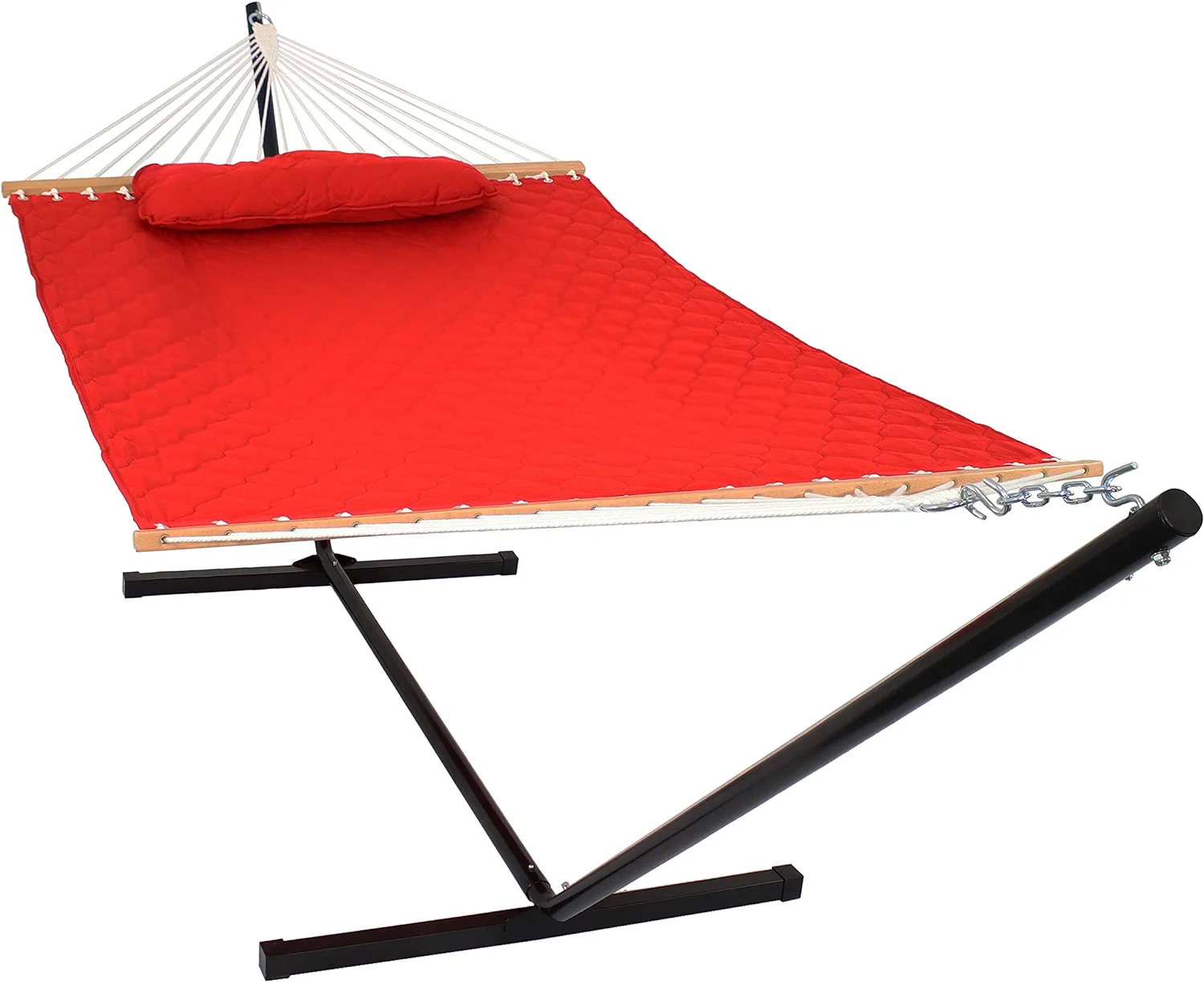 Heavy-duty 12-foot stand and pillow are included
The Sunnydaze Freestanding Double Hammock is an affordable option with a lot of great features at a low price. The hammock is big enough for two people, and the spreader bars give you the ability to hang the hammock almost anywhere.

The stand is very sturdy and can hold up to 350 pounds, and the included pillow is a nice touch.

The hammock and stand are well-made, and the quilted pattern looks nice. Overall, the Sunnydaze Freestanding Hammock provides great value for the money, and it will last a long time.
The hammocks are fairly large, and they're solidly constructed. The spreader bars are slightly angled outward, which helps support the weight of the person lying down in the hammock. The chains are made of thin metal, and after a few weeks of use, the ends might feel too sharp for your comfort.
It weighs 42.6 Pounds, so it's a bit heavier than some of the other hammock models we tested, but it's strong enough that two people could probably fit side by side. The spreader bars are nice and thick, and there's a soft foam pillow included.
The Sunnydaze Double Hammock is a solid, durable, and good-looking choice for anyone looking to spend a weekday afternoon swinging in their backyard. This hammock can accommodate two persons at a time, so it's great for cuddling on a lazy afternoon, but it also holds up to 450 pounds, so it's suitable for adults, too.
It's designed to hang outside, but the stand can be used as a hanging chair inside as well. They work well at backyard parties when space is limited. Easy to hang anywhere. I would consider this an excellent choice, and even though it may seem pricey, it is definitely worth every penny! If you like its design you cannot go wrong with this one – it's probably the perfect indoor hammock for you.
Maximum Weight Recommendation: 350 Pounds
Item Weight: 40 Pounds
Hammock pillow: 32″ L x 12″ D x 5″ H
Hammock bed size: 76″ L x 55″ W
Overall Dimension: 132″ L x 55″ W from loop to loop
Pros
Hammock is constructed from 100-percent polyester fabric
Soft and breathable fabric provides comfort
Spreader bars keep the hammock taut and look great
Quilted designs fabric provides a nice look
Stand is easy to set up and fold down
Cons
Stand is heavy; might need two people to carry, setup, and collapse
2. VEIKOU 2 Person Portable Hammock with Stand and Pillow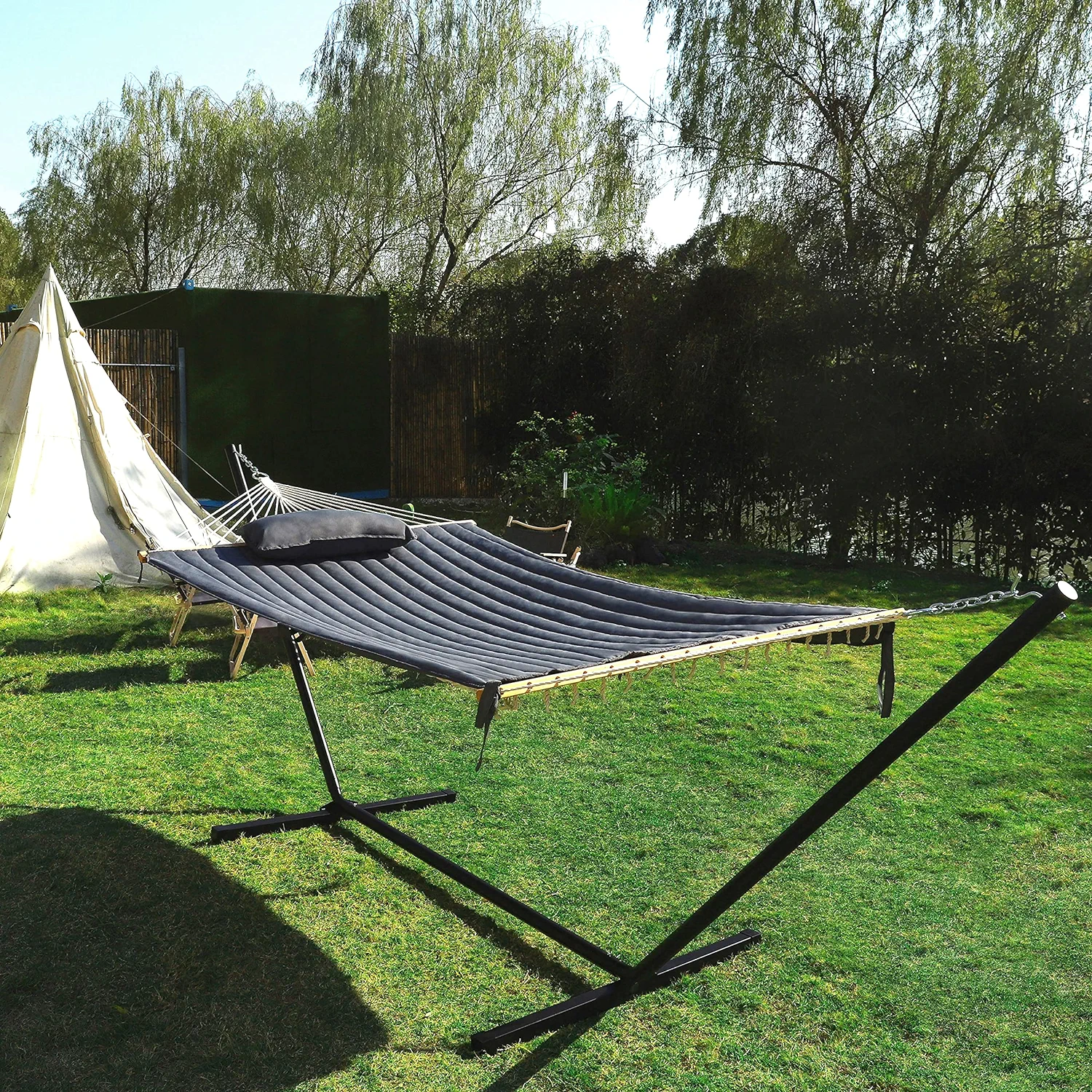 Easy Setup – Elegant – Weather- Resistant Polyester Fabric 
The fabric is resistant to mildew, water, and UV damage, so you can leave it set up for the summer without worrying about fading. The VEIKOU Hammock's comfort is great, too.  

It may be a bit on the heavy side, but that shouldn't stop you from adding this hammock to your outdoor space.
The Veikou 2 Person Hammock is made of highly durable polyester fabric and it can handle a 450-lb. weight capacity. The hammock pad is made of weather-resistant solution-dyed polyester fabric in white color with inner poly quilting so it will withstand the conditions. The stand is heavy duty and solid with durable tubular powder-coated steel frame. This hammock with stand includes a hanging chain and two metal O-rings making it easy to set up as soon as you get it.
On the down side, it's fairly heavy and bulky (it's almost 2 feet in diameter), and it's also not the cheapest hammock with stand out there.
At two feet long and coming in at 18 inches wide from one end to the other, this option is small enough to travel with while on vacation or even as an outdoor accessory for your porch. The stand for this model is super lightweight, even though it can support up to 450 pounds without any issue. If only it came with a carrying bag.
Made from premium quality material, the Veikou Hammock is ideal for camping and outdoor adventures. It's also great for relaxing at home after a long day. The included pillow is a nice addition for ultimate comfort. Definitely worthy of consideration if you like its simplistic design.
Overall Size: 144"L x 51.5"W x 47.8"H
Hammock bed size: 51.5"W x 75.9"L
Weight capacity: 450lbs
Pros
Strong and durable
Portable
Perfect for Outdoor and Indoor Use
Cons
Might not be ideal for taller individuals
3. Sorbus Hammock with Stand & Spreader Bars and Pillow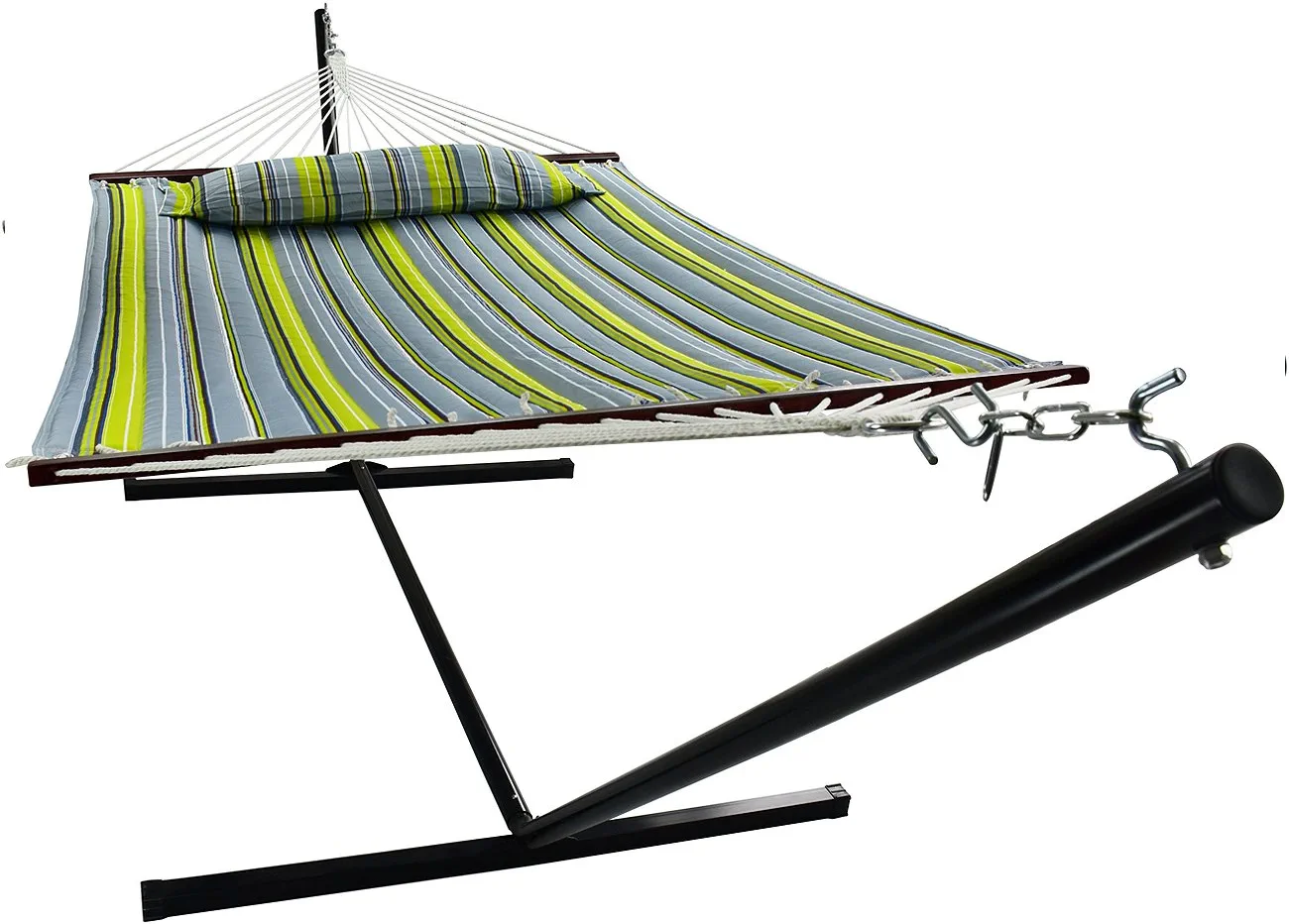 Easy to Assemble – Sturdy & Stylish
The Sorbus Hammock is an attractive, sturdy option that's perfect for lounging and relaxing in any room of the house or outdoors.

The powder-coated steel frame is sturdy and sturdy, and the frame locks together securely without screws or tools. 
The spreader bar does a great job of supporting multiple hammocks and makes it more sturdy when more than one is in use. The detachable pillow is a nice bonus, as is the included carrying case. The pillow is ideal for lounging or reading.
It's made of weather-resistant, all-weather materials, and easily sets up wherever you like, including on your deck or patio, or in your backyard. We found the hammock bed to be comfortable, stable, and surprisingly roomy. It's made of the same materials as the spreader bar, and can withstand a fair amount of weight (or two adults plus a child). This package includes everything you need for relaxing outdoors, including one hand-weaved polyester hammock and a detailed instruction booklet with basic set up instructions. It's quick and simple, and it'll give you the opportunity to kick your feet up on almost anything – especially while you relax in the sun.
Although this hammock bed can easily support up to 450 pounds, the spreader bars offer added stability so you can enjoy the hammock worry-free. This hammock bed comes complete with a stand and spreader bars, so you have everything you need to enjoy relaxing outdoors. They are made of cotton and polyester fabrics with sturdy stands included that are simple to setup in seconds. These will become an instant hit for all your outdoor adventures this summer.
You can find this option in three stunning color choices to choose from and comes at a reasonable price, even though it might be a little pricier than its competitors. Overall a sturdy and durable option that justifies its price, so if you like its beautiful design, it is worth a closer look before you make up your mind.
Accommodates: 2 people
Weight Capacity: 450 pounds
Fits Hammocks: Ranging from 9.8 ft to 12 ft
Frame Stand: 147″ X 47 " X 47″
Hammock Bed: 45″ W x 53″ deep
Pros
Comfortable, relaxing experience
Can be used as additional sleeping space
Easily portable
Cons
Could be a little cheaper
4. Vivere Double Cotton Hammock with Space Saving Steel Stand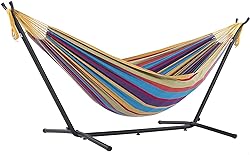 Vivere Stand And Hammock Combos feature a similar design to Vivere's other hammocks, but at half the price. The hammock itself is lightweight and dries quickly, while the stand is sturdy and easy to set up. The stand gets bonus points for its portability.
It took a bunch of Amazon reviews to convince us to make a purchase. We ordered one and were pleasantly surprised. The price was right, the quality was decent, the setup was simple and pleasing. The quality is better than we expected. The steel stand has very thick legs, so it's very stable. The hammock is double woven, so it will last. Most importantly, we slept like babies the first night.
The Vivere Double Cotton Hammock is the top hammock in our roundup. It s spacious enough for two adults (with plenty of room for pillows) and has the most comfortable hanging system.
The stand is a nifty design, too; it's easy to set up. And you can finish the setup even faster if you add the Vivere hammock spreaders.
Because Vivere double-hammocks are such good value, and because hammocks have major space benefits over traditional beds, we recommend them wholeheartedly.
Pros
Generous 450 lb capacity
Sturdy steel frame, collapsible legs, and thick cotton rope
5. SUNCREAT 55Inch Extra Large Double Hammock with Stand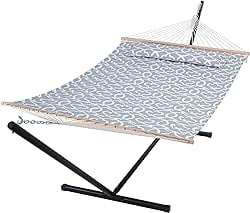 If you are looking for an outdoor portable hammock, this hammock would be a great choice for you! With its awesome design, comfortable and large size, this hammock is perfect for any outdoor activities. The stand is made of strong powder-coated steel, providing great stability. The cotton ropes are hand-woven, and the cotton hanging ropes are secured by steel rings to prevent from slipping.

The SUNCREAT Double Hammock is our second pick because of its high-quality construction, comfort, and modern, simple design. The hammock itself is large enough for two adults, the spreader bar is made from a thick, sturdy wood that's sturdy and stable, and the hammock itself feels solid but not too heavy.
The powder-coated steel stand is also solid and very stable. The hammock has thick, well-made ropes and looks great. It's extremely easy to set up: we set up the hammock and stand in less than 5 minutes without any tools.
We particularly like the fact that the cotton ropes are woven into a pattern at the end of each rope. We thought they looked nicer than plain ropes. Although the stand is larger and heavier than some of the smaller stands we tested, it's compact enough to fit in our garage.
The SunCreat hammocks we tested were among the most comfortable hammocks in the world. For its price, it still represents excellent value. If you are looking for a hammock that is comfortable, versatile, durable, and easy to set up, this other options is hard to beat.
Pros
Extra large capacity
Robust
Easy to set up and take down
Cons
Not suitable for small people
6. BalanceFrom Double Hammock with Steel Stand and Carrying Case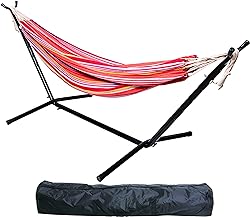 The weight is heavy by hammock standards, but the stand folds up small enough to fit under a bed. The bed is spacious, and it feels super comfortable. If you're strapped for space, this hammock will take up less room than other models.

But our biggest gripe with this hammock is that the carabiners on the stand are cheap and prone to breaking. You may end up putting large carabiners around them to prevent any mishaps.
The BalanceFrom Double Hammock provides a comfortable place to relax outdoors. It's well-built and attractive, with a striped design, a steel stand that folds down for easy portability, and a sturdy carrying bag. The hammock itself is made of cotton and polyester, with ropes that are interwoven for extra durability.
The bed itself is large and comfy, with plenty of space for two, and it's soft enough that you'll almost forget that you're laying down in a hammock rather than a pillow-filled bed. The stand is sturdy, and the bed is easy to set up, though we found that it was difficult though to snap the stand's legs.
Even so, the hammock was remarkably easy to carry around and set up, packed snugly into the included carrying case. It's heavier than you might expect, but it's big enough to hold two comfortably, and most people should be able to carry it.
Pros
Perfect for camping, backyard BBQs
Sets up in seconds
Solid steel frame for maximum durability
7. SUNCREAT Hammock Double Hammock with Stand, Blue Stripe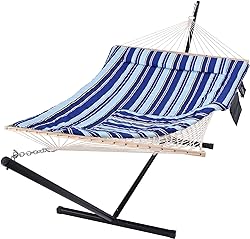 The SUNCREAT hammock is perfect for two people, and it's more comfortable than it looks. The adjustments aren't as user-friendly as some hammocks we've tested, though. The stand is very easy to assemble and disassemble, and there's a handy pad that comes along with the hammock.

The SUNCREAT Hammock is the best hammock under $150 we tested. It's well-made, comfortable, and compact. We liked how it has a large, 76-inch long bed, large enough to fit in two tall adults, though we did find that it had too much slack between the hammock's two ends.
The stand is sturdy and portable and easy enough to put together without any tools, but it wobbles a little. The quilted polyester pad is a nice touch, and the wood frame and stuffer pillow are well made.
So far, the hammock has survived three trips, and it has held up well. A bonus is that the hammock comes with a portable stand.
This hammock is easy to use, and fun! It s easy to set up, and the portable stand folds flat for compact storage. Overall, a great purchase.
Pros
Lightweight
Breathable and comfortable
Cons
Not ideal for taller users
8. Highwild Double Hammock with Steel Stand – Max 600 Lbs – Includes Portable Carrying Bag (Blue/Purple)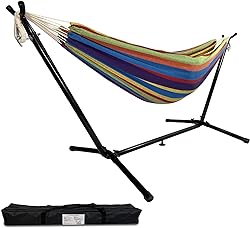 The hammock itself is made of thick, durable cotton, and is machine-washable, so you can keep it clean with minimal effort. The stand is sturdy enough that two people can comfortably relax in. The Highwild Hammock is a great value for the price.
The Highwild Double Hammock has a comfortable fabric material that hangs perfectly, and it's comfortable enough to be used with or without a stand. However, it's a bit heavy for one person to hoist on his or her own.
The stand is durable, and the included carrying bag makes it easy to transport. The hammock fabric is thick but breathable, and it's lightweight and easily adjustable for different body shapes. The hammock itself has a thick cotton body that's comfortable to lie in and is durable enough to withstand heavy use.
If you're looking for a well-built, comfortable, and durable hammock setup, the Highwild delivers. The stand was easy to set up, which is important because many hammock stands require tools, are complicated to set up, or take a long time to set up.
Pros
Durable construction
Comfortable, soft cotton material
Comes with portable carrying bag
9. Poolside Hammock with Stand, 2 Person Patio Hammock, Waterproof UV Resistance, 2 Bags Included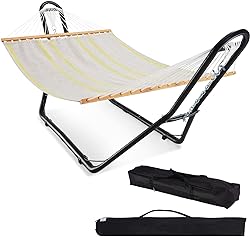 A hammock is a beautiful backyard accessory and an ideal way to escape from the stresses of daily life. The AKOYA is made of vinyl-coated polyester, making it fade-resistant. The package includes two hanging straps and a carrying bag, so you can take your hammock anywhere you need a nap. It's large enough to fit two average-size people easily, and it's comfortable to lay in.
This hammock and spreader bar combo is a great idea for your patio or deck. The hammock's blue color looks good on almost any deck or patio. The hammock itself is made of a breathable, waterproof material that is easy to care for.
The hammock has a padded headrest and is sturdy enough for two people, although it isn't large enough for two bodies to lay on top, like some other hammocks. The included hammock stand holds 450 pounds and only requires a screw gun or drill to make installation easy. The hammock is easy to set up, and two people can be relaxing in a hammock in less than five minutes. We appreciated its sturdy, high-quality build.
The hammock is a well-made, comfortable, and surprisingly sturdy product. The hammock itself is made with high-quality, waterproof vinyl-coated material and is securely attached by a spreader bar. The hammock and stand were packaged separately, so assembly requires a bit of work and is done without tools.
It's incredibly comfortable, and I found it much more soothing than an ordinary pair of reclining chairs, as well as the many beach chairs I tested.
Pros
Easy to assemble & hang
Hammock is waterproof and easy to wash